Description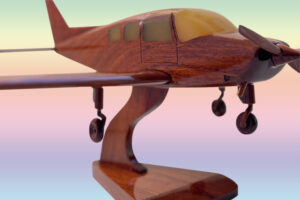 Beech Sundowner
Dimension: 42 cm long
Mahogany Wooden Model
Airplane Collection models are collection pieces for the following technical reasons. Firstly, the models are limited editions and hand-crafted. Secondly, the replica is an accurate scaled-down model of the original aircraft. All specifications of the airplane's design are religiously respected for accuracy. Thirdly, the wood is carefully chosen for its natural beauty, color, and grain in function to the type of aircraft model. A predetermined time is taken to dry and conserve the wood before the hand-crafting by our artists.
The Beechcraft Musketeer is a family of single-engined, low-wing, light aircraft that was produced by Beechcraft. The line includes the Model 19 Musketeer Sport, the Model 23 Musketeer, Custom and Sundowner, the Model 23-24 Musketeer Super III the retractable gear Model 24-R Sierra and the military CT-134 Musketeer.
The Musketeer line was in production from model years 1963 to 1983, during which time a total of 4,366 were produced.[1] The type certificate for the Musketeer family of aircraft has been owned by Hawker Beechcraft since March 26, 2007.[2]