Description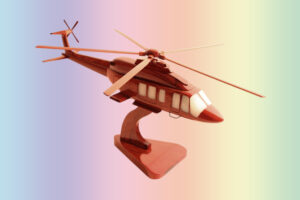 Bell B-525 Helicopter
Dimension 37 cm long
Mahogany model, hand-crafted primarily from solid hardwood, the size of the model is 37 cm long. This model is composed of 6 easily assembled movable pieces which include the fuselage, the wings, the rudder, stabilizer and the base. The wood receives base protection which prevents drying out and cracking. Occasional cleaning maintenance with a citrus-based oil product is sufficient is keeping the collection piece beautiful even after a year after year of display in your company office or private home. This model is available and more details on our website.
The Bell 525 Relentless is an American medium-lift helicopter, under development by Bell Textron. The Bell 525 was unveiled at the 2012 Heli-Expo in Dallas, Texas in February 2012. The helicopter first flew on 1 July 2015. It is designed to transport up to 19 passengers.[1]
The Bell 525's maiden flight was planned for late 2014.[2] PHI, Inc. was the launch customer for the type,[3] but as of 2016 is no longer the launch customer.[4] After a six-month delay, the Bell 525 prototype first flew in July 2015. At that time, Bell predicted certification to be completed by the end of 2017.[5][6] The FAA suggested special rules in May 2016, to address the fly-by-wire concept.[7]