Description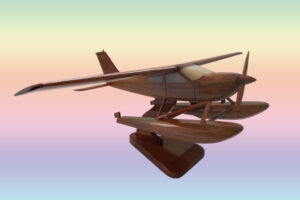 Cessna C-177 Float
Dimension: 36 cm long / ws 49 cm
Mahogany Wooden Model
Airplane Collection models are collection pieces for the following technical reasons. Firstly, the models are limited editions and hand-crafted. Secondly, the replica is an accurate scaled-down model of the original aircraft. All specifications of the airplane's design are religiously respected for accuracy. Thirdly, the wood is carefully chosen for its natural beauty, color and grain in function to the type of aircraft model. A predetermined time is taken to dry and conserve the wood before the hand-crafting by our artists.
In the final phase, the model receives a unique pellicle coating devised by the technical advisors of the Aircraft Collection which enhances, once again, the natural beauty of the wood and provides a durable protection for years to come.
The Cessna 177 was designed in the mid-1960s when the engineers at Cessna were asked to create a "futuristic 1970s successor to the Cessna 172". The resulting aircraft featured newer technology such as a cantilever wing lacking the lift struts of previous models, and a new laminar flow airfoil.[1][2] The 177 is the only production high-wing single-engined Cessna since the Cessna 190 & 195 series to have both fixed landing gear and a cantilever wing without strut bracing.[1]
In 1971, Cessna experimented with a "Quiet Cardinal" similar to the Beechcraft QU-22 Pave Eagle. A test model was flown with a Wankel engine with a large three bladed 100 inch diameter propeller with a belt driven gear reduction unit and a fuselage-length exhaust canted upward.[3]