Description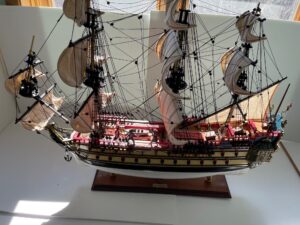 La Licorne Tintin
Dimension 80 cm long / wide 18 cm / height 72 cm
Wooden painting
La Licorne maquette bateau also appears in the 2011 film adaptation The Adventures of Tintin: The Secret of the Unicorn. In addition, In the movie of the Tintin adventures, the Unicorn is the setting of a battle between pirates and sailors. Moreover, followed by a duel between its captain, Sir Francis Haddock (an ancestor of Captain Haddock) and the pirate Red Rackham.
Most importantly, The Unicorn is scuttled and sinks, and found years later by tintin and his friends. Firstly, The unicorn (La Licorne) was inspired by Le Brillant, built in 1690 at Le Havre, in France. After that, by the shipwright Salicon and then decorated by the designer Jean Bérain the Elder. In 1942, Hergé had decided that his latest Tintin adventure, The Secret of the Unicorn (1943). Moreover, he should depict images of his fictional Unicorn as detailed precision drawings.
Construction of the boat:
We place a layer of fiberglass on the hull's planks and painted with acrylic paint.
Deck made of Oak wood.
Masts and other pieces on the deck are made Teak, Acajou and Beech wood.
Sculptures, anchors, and cannons are molded in Zinc metal and painted.
Cotton sails are tinted in the tea.
Ropes are cotton and nylon waxed in the bee wax to do the rigging.
Superior ship, Warship Models