Description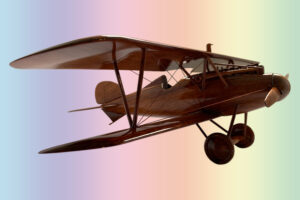 Albatros
Dimension: 34 cm ws 40cm
Mahogany Wooden Model
Airplane Collection models are collection pieces for the following technical reasons. Firstly, the models are limited editions and hand-crafted. Secondly, the replica is an accurate scaled-down model of the original aircraft. All specifications of the airplane's design are religiously respected for accuracy. Thirdly, the wood is carefully chosen for its natural beauty, color and grain in function to the type of aircraft model. A predetermined time is taken to dry and conserve the wood before the hand-crafting by our artists.
In the final phase, the model receives a unique pellicle coating devised by the technical advisors of the Aircraft Collection which enhances, once again, the natural beauty of the wood and provides a durable protection for years to come.
Albatros Flugzeugwerke GmbH was a German aircraft manufacturer best known for supplying the German airforces during World War I.
The company was based in Johannisthal, Berlin, where it was founded by Walter Huth and Otto Wiener on December 20, 1909. The company (and its subsidiary, Ostdeutsche Albatros Werke (OAW)) produced many capable fighter aircraft, notably the Albatros D.III and Albatros D.V, both designed by Robert Thelen. The Albatros merged into Focke-Wulf in 1931.