Description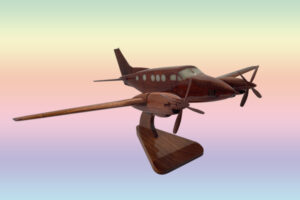 Beechcraft KA-90
Dimension: 43 cm ws 46 cm
Mahogany Wooden Model
Airplane Collection models are collection pieces for the following technical reasons. Firstly, the models are limited editions and hand-crafted. Secondly, the replica is an accurate scaled-down model of the original aircraft. All specifications of the airplane's design are religiously respected for accuracy. Thirdly, the wood is carefully chosen for its natural beauty, color and grain in function to the type of aircraft model. A predetermined time is taken to dry and conserve the wood before the hand-crafting by our artists.
The Beechcraft King Air is a line of American utility aircraft produced by Beechcraft. The King Air line comprises a number of twin-turboprop models that have been divided into two families. The Model 90 and 100 series developed in the 1960s are known as King Airs, while the later T-tail Model 200 and 300 series were originally marketed as Super King Airs, with the name "Super" being dropped by Beechcraft in 1996 (although it is still often used to differentiate the 200 and 300 series King Airs from their smaller stablemates).
The King Air was the first aircraft in its class and was produced continuously from 1964 to 2021. It outsold all of its turboprop competitors combined. It has recently faced competition from jet aircraft such as the Embraer Phenom 100, Honda HA-420 HondaJet and Cessna Citation Mustang; as well as from newer turboprop aircraft including the Piaggio P180 Avanti, and single-engine Piper Malibu Meridian, Pilatus PC-12, and Socata TBM.