Description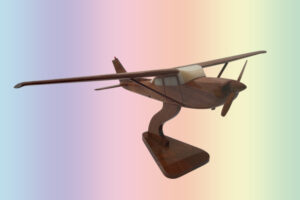 Cessna C-172 RG
Dimension: 37 cm long / ws 51 cm
Mahogany Wooden Model
Airplane Collection models are collection pieces for the following technical reasons. Firstly, the models are limited editions and hand-crafted. Secondly, the replica is an accurate scaled-down model of the original aircraft. All specifications of the airplane's design are religiously respected for accuracy. Thirdly, the wood is carefully chosen for its natural beauty, color and grain in function to the type of aircraft model. A predetermined time is taken to dry and conserve the wood before the hand-crafting by our artists.
In the final phase, the model receives a unique pellicle coating devised by the technical advisors of the Aircraft Collection which enhances, once again, the natural beauty of the wood and provides a durable protection for years to come.
The Cessna 172 Skyhawk is an American four-seat, single-engine, high wing, fixed-wing aircraft made by the Cessna Aircraft Company.[2] First flown in 1955,[2] more 172s have been built than any other aircraft.[3] It was developed from the 1948 Cessna 170 but with tricycle landing gear rather than conventional landing gear. The Skyhawk name was originally used for a trim package, but was later applied to all standard-production 172 aircraft, while some upgraded versions were marketed as the Cutlass.
Measured by its longevity and popularity, the Cessna 172 is the most successful aircraft in history. Cessna delivered the first production model in 1956, and as of 2015, the company and its partners had built more than 44,000 units.[1][4][5] The aircraft remains in production today.
A general aviation airplane, the Skyhawk's main competitors have been the Beechcraft Musketeer and Grumman AA-5 series (neither currently in production), the Piper Cherokee,[6] and, more recently, the Diamond DA40 and Cirrus SR20.