Description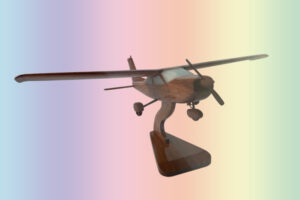 Cessna C-177 Wheel
Dimension: 37cm / ws 49 cm
Mahogany Wooden Model
Mahogany model, hand-crafted primarily from solid hardwood. This model is composed of 6 easily assembled movable pieces which include the fuselage, the wings, the rudder, stabilizer and the base. The wood receives base protection which prevents drying out and cracking. Occasional cleaning maintenance with a citrus-based oil product is sufficient in keeping the collection piece beautiful even after year after year of display in your company office or private home.
The Cessna 177 Cardinal is a light single-engine, high-wing general aviation aircraft produced by Cessna. It was intended to replace the Cessna 172 Skyhawk. First announced in 1967, it was produced from 1968 to 1978.[1][2]
The Cessna 177 was designed in the mid-1960s when the engineers at Cessna were asked to create a "futuristic 1970s successor to the Cessna 172". The resulting aircraft featured newer technology such as a cantilever wing lacking the lift struts of previous models, and a new laminar flow airfoil.[1][2] The 177 is the only production high-wing single-engined Cessna since the Cessna 190 & 195 series to have both fixed landing gear and a cantilever wing without strut bracing.[1]