Description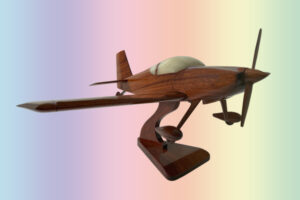 Van's Aircraft RV-7
Dimension: 34cm / ws 45 cm
Mahogany Wooden Model
Mahogany model, hand-crafted primarily from solid hardwood. This model is composed of 6 easily assembled movable pieces which include the fuselage, the wings, the rudder, stabilizer and the base. The wood receives base protection which prevents drying out and cracking. Occasional cleaning maintenance with a citrus-based oil product is sufficient in keeping the collection piece beautiful even after year after year of display in your company office or private home. This model is available and more details on our website.
The Van's RV-7 and RV-7A are two-seat, single-engine, low-wing homebuilt airplanes sold in kit form by Van's Aircraft. The RV-7 is the tail-wheel equipped version, while the RV-7A features a nose-wheel.[4]
The RV-7 was the replacement of the RV-6, replacing the RV-6 in 2001.[5] It is externally similar to the earlier model, with longer wings, larger fuel tanks and a larger rudder to improve spin recovery characteristics.[6]