Description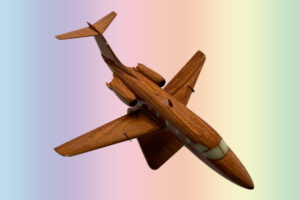 Beechcraft Beech 400
Dimension 44 cm long / 38 cm w/s
Mahogany Wooden Model
Airplane Collection models are collection pieces for the following technical reasons. Firstly, the models are limited editions and hand-crafted. Secondly, the replica is an accurate scaled-down model of the original aircraft. All specifications of the airplane's design are religiously respected for accuracy. Thirdly, the wood is carefully chosen for its natural beauty, color and grain in function to the type of aircraft model. A pre-determined time is taken to dry and conserve the wood before the hand-crafting by our artists.
The Hawker 400 (also known as the Beechjet 400) is a light business jet. Initially designed and built by Mitsubishi, it has been further developed and updated by the Beech Aircraft Company, now part of Textron Aviation.
It was produced over 30 years under the names such as Mitsubishi Diamond/Diamond II, Beechjet 400/400A, and Hawker 400XP; military version T-1 Jayhawk was also produced. In total, over 900 Hawker 400s have been delivered.