Description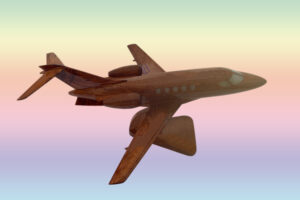 SyberJet SJ30
Dimension 42 cm and 40 cm w/s
Mahogany Wood Desktop
Airplane Collection models are collection pieces for the following technical reasons. Firstly, the models are limited editions and hand-crafted. Secondly, the replica is an accurate scaled-down model of the original aircraft. All specifications of the airplane's design are religiously respected for accuracy. Thirdly, the wood is carefully chosen for its natural beauty, color and grain in function to the type of aircraft model. A pre-determined time is taken to dry and conserve the wood before the hand-crafting by our artists.
In the final phase, the model receives a unique pellicle coating devised by the technical advisors of the Aircraft Collection which enhances, once again, the natural beauty of the wood and provides a durable protection for years to come.
The SyberJet SJ30 is a light business jet built by American company SyberJet Aircraft. In October 1986, Ed Swearingen announced the new design, a 6 to 8 person aircraft powered by two Williams FJ44 turbofans. Initially backed by Gulfstream Aerospace from October 1988, the Jaffe Group took over in September 1989 and the first SJ-30 flew on February 13, 1991 but development halted afterwards. The Taiwan-based Sino Swearingen Aircraft Corporation rescued the program, the jet was stretched by 4.3 ft (1.3 m) into the SJ30-2 with a wingspan increased by six feet (1.8 m).
It made its first flight on November 8, 1996 and was certified by the FAA on October 27, 2005, before a first delivery by November 1, 2006. Dubai investors acquired Sino Swearingen in 2008, changing its name to Emivest, but production ceased in November 2009 and the company filed for bankruptcy on October 26, 2010. On April 7, 2011, assets were sold to its aft fuselage supplier Metalcraft Technologies, renaming the company SyberJet Aircraft and planning to restart production in 2019. With updated avionics and interior, the SJ30i made its maiden flight on October 9, 2019.