Description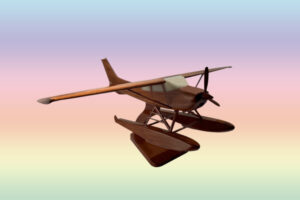 Cessna C-182 Float Skylane
Dimension: 37cm long and 52 cm w/s
Mahogany Wooden Model
Airplane Collection models are collection pieces for the following technical reasons. Firstly, the models are limited editions and hand-crafted. Secondly, the replica is an accurate scaled-down model of the original aircraft. All specifications of the airplane's design are religiously respected for accuracy. Thirdly, the wood is carefully chosen for its natural beauty, colour and grain in function to the type of aircraft model. A predetermined time is taken to dry and conserve the wood before the hand-crafting by our artists.
The Cessna 182 was introduced in 1956 as a tricycle gear variant of the 180. In 1957, the 182A variant was introduced along with the name Skylane. As production continued, later models were improved regularly with features such as a wider fuselage, swept tailfin with rear "omni-vision" window, enlarged baggage compartment, higher gross weights, landing gear changes, etc. The "restart" aircraft built after 1996 were different in many other details including a different engine, new seating design, etc.
By mid-2013, Cessna planned to introduce the next model of the 182T, the JT-A, using the 227 hp (169 kW) SMA SR305-230 diesel engine running on Jet-A with a burn rate of 11 U.S. gallons (42 L; 9.2 imp gal) per hour and cruise at 155 kn (287 km/h).[2][3] Cessna has no timeline for the JT-A and the diesel 172.[4] The normally aspirated, avgas-fueled 182 went out of production in 2012, but came back in 2015.[5]