Description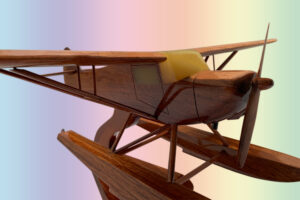 Taylorcraft Float
Dimension: 35 cm ws 52cm
Mahogany Wooden Model
Airplane Collection models are collection pieces for the following technical reasons. Firstly, the models are limited editions and hand-crafted. Secondly, the replica is an accurate scaled-down model of the original aircraft. All specifications of the airplane's design are religiously respected for accuracy. Thirdly, the wood is carefully chosen for its natural beauty, color and grain in function to the type of aircraft model. A predetermined time is taken to dry and conserve the wood before the hand-crafting by our artists.
In the final phase, the model receives a unique pellicle coating devised by the technical advisors of the Aircraft Collection which enhances, once again, the natural beauty of the wood and provides a durable protection for years to come.
The Taylorcraft B is an American light, single-engine, high-wing general aviation monoplane, with two seats in side-by-side configuration, that was built by the Taylorcraft Aviation Corporation of Alliance, Ohio.[1][2]
The Model B was constructed in large numbers during the late 1930s and early 1940s and was available for delivery from the factory as a land plane and a floatplane. Like many light aircraft of its day, the fuselage is constructed of welded steel tubing and covered with doped aircraft fabric. The wings are braced using steel-tube struts.