Description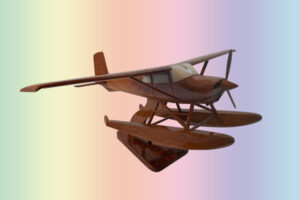 Cessna C-175 Skylark
Dimension: 37 cm long / ws 52 cm
Mahogany Wooden Model
Airplane Collection models are collection pieces for the following technical reasons. Firstly, the models are limited editions and hand-crafted. Secondly, the replica is an accurate scaled-down model of the original aircraft. All specifications of the airplane's design are religiously respected for accuracy. Thirdly, the wood is carefully chosen for its natural beauty, color and grain in function to the type of aircraft model. A predetermined time is taken to dry and conserve the wood before the hand-crafting by our artists.
The Cessna 175 Skylark is a four-seat, single-engine, high-wing airplane produced by Cessna between 1958 and 1962.
The 175 was designed to fill a niche between the Cessna 172 and the faster Cessna 182. The engine of the 175, a geared version of the O-300 (Continental GO-300) used in the 172, is rated at 175 hp (130 kW), or 30 hp (22 kW) more than the 172 engine. Between 1958 and 1962, a total of 2,106 were built. The basic airplane was marketed as the 175, and the plane with a package of optional equipment and overall paint (a partial paint scheme was used on the basic model) was marketed as the Skylark.