Description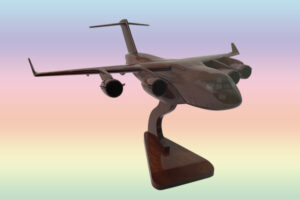 Boeing C-17 Globemaster
Dimension: 39cm long / ws 43cm
Mahogany Wooden Model
Airplane Collection models are collection pieces for the following technical reasons. Firstly, the models are limited editions and hand-crafted. Secondly, the replica is an accurate scaled-down model of the original aircraft. All specifications of the airplane's design are religiously respected for accuracy. Thirdly, the wood is carefully chosen for its natural beauty, color, and grain in function to the type of aircraft model. A predetermined time is taken to dry and conserve the wood before the hand-crafting by our artists.
In the final phase, the model receives a unique pellicle coating devised by the technical advisors of the Aircraft Collection which enhances, once again, the natural beauty of the wood and provides durable protection for years to come.
The McDonnell Douglas/Boeing C-17 Globemaster III is a large military transport aircraft that was developed for the United States Air Force (USAF) from the 1980s to the early 1990s by McDonnell Douglas. The C-17 carries forward the name of two previous piston-engined military cargo aircraft, the Douglas C-74 Globemaster and the Douglas C-124 Globemaster II.
The C-17 is based upon the YC-15, a smaller prototype airlifter designed during the 1970s. It was designed to replace the Lockheed C-141 Starlifter, and also fulfill some of the duties of the Lockheed C-5 Galaxy. Compared to the YC-15, the redesigned airlifter differed in having swept wings, increased size, and more powerful engines. Development was protracted by a series of design issues, causing the company to incur a loss of nearly US$1.5 billion on the program's development phase. On 15 September 1991, roughly one year behind schedule, the first C-17 performed its maiden flight. The C-17 formally entered USAF service on 17 January 1995. Boeing, which merged with McDonnell Douglas in 1997, continued to manufacture the C-17 for almost two decades. The final C-17 was completed at the Long Beach, California plant and flown on 29 November 2015.[2]