Description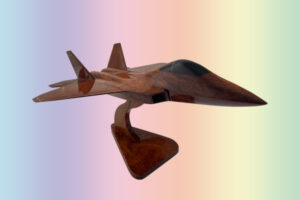 Lockheed Martin F-22 Raptor
Dimension: 49 cm long ws 29 cm
Mahogany Wooden Model
Airplane Collection models are collection pieces for the following technical reasons. Firstly, the models are limited editions and hand-crafted. Secondly, the replica is an accurate scaled-down model of the original aircraft. All specifications of the airplane's design are religiously respected for accuracy. Thirdly, the wood is carefully chosen for its natural beauty, color and grain in function to the type of aircraft model. A predetermined time is taken to dry and conserve the wood before the hand-crafting by our artists.
In the final phase, the model receives a unique pellicle coating devised by the technical advisors of the Aircraft Collection which enhances, once again, the natural beauty of the wood and provides a durable protection for years to come.
The Lockheed Martin F-22 Raptor is an American single-seat, twin-engine, all-weather tactical stealth fighter aircraft developed for the United States Air Force (USAF). As a product of the USAF's Advanced Tactical Fighter (ATF) program the aircraft was designed as an air superiority fighter, but also incorporates ground attack, electronic warfare, and signals intelligence capabilities. The prime contractor, Lockheed Martin, built most of the F-22's airframe and weapons systems and conducted final assembly, while Boeing provided the wings, aft fuselage, avionics integration, and training systems.