Description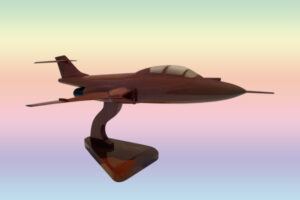 McDonnell F-101 Voodoo
Dimension: 43 cm long / ws 26 cm
Mahogany Wooden Model
Airplane Collection models are collection pieces for the following technical reasons. Firstly, the models are limited editions and hand-crafted. Secondly, the replica is an accurate scaled-down model of the original aircraft. All specifications of the airplane's design are religiously respected for accuracy. Thirdly, the wood is carefully chosen for its natural beauty, color and grain in function to the type of aircraft model. A predetermined time is taken to dry and conserve the wood before the hand-crafting by our artists.
In the final phase, the model receives a unique pellicle coating devised by the technical advisors of the Aircraft Collection which enhances, once again, the natural beauty of the wood and provides a durable protection for years to come.
The McDonnell F-101 Voodoo is a supersonic jet fighter which served the United States Air Force (USAF) and the Royal Canadian Air Force (RCAF).
Initially designed by McDonnell Aircraft Corporation as a long-range bomber escort (known as a penetration fighter) for the USAF's Strategic Air Command (SAC), the Voodoo was instead developed as a nuclear-armed fighter-bomber for the USAF's Tactical Air Command (TAC), and as a photo reconnaissance aircraft based on the same airframe. An F-101A set a number of world speed records for jet-powered aircraft, including fastest airspeed, attaining 1,207.6 miles (1,943.4 km) per hour on 12 December 1957.[1] They operated in the reconnaissance role until 1979.