Description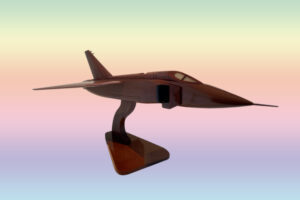 Arrow Avro CF-105
Model available
Dimension 56 cm / ws 35cm
Mahogany Wooden Model
Airplane Collection models are collection pieces for the following technical reasons. Firstly, the models are limited editions and hand-crafted. Secondly, the replica is an accurate scaled-down model of the original aircraft. All specifications of the airplane's design are religiously respected for accuracy. Thirdly, the wood is carefully chosen for its natural beauty, color and grain in function to the type of aircraft model. A predetermined time is taken to dry and conserve the wood before the hand-crafting by our artists.
The Avro Canada CF-105 Arrow was a delta-winged interceptor aircraft designed and built by Avro Canada. The CF-105 held the promise of Mach 2 speeds at altitudes exceeding 50,000 feet (15,000 m) and was intended to serve as the Royal Canadian Air Force's (RCAF) primary interceptor into the 1960s and beyond.[3]
The Arrow was the culmination of a series of design studies begun in 1953 that examined improved versions of the Avro Canada CF-100 Canuck. After considerable study, the RCAF selected a dramatically more powerful design, and serious development began in March 1955. The aircraft was intended to be built directly from the production line, skipping the traditional hand-built prototype phase. The first Arrow Mk. 1, RL-201, was rolled out to the public on 4 October 1957, the same day as the launch of Sputnik I.
Flight testing began with RL-201 on 25 March 1958, and the design quickly demonstrated excellent handling and overall performance, reaching Mach 1.9 in level flight. Powered by the Pratt & Whitney J75, another four Mk. 1s were completed, RL-202, RL-203, RL-204 and RL-205. The lighter and more powerful Orenda Iroquois engine was soon ready for testing, and the first Mk 2 with the Iroquois, RL-206, was ready for taxi testing in preparation for flight and acceptance tests by RCAF pilots by early 1959.