Description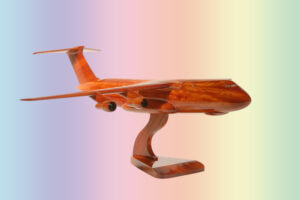 Lockheed C-5 Galaxy
Dimension: 54 cm long / 50 cm w/s
Mahogany Wooden Model
Airplane Collection models are collection pieces for the following technical reasons. Firstly, the models are limited editions and hand-crafted. Secondly, the replica is an accurate scaled-down model of the original aircraft. All specifications of the airplane's design are religiously respected for accuracy. Thirdly, the wood is carefully chosen for its natural beauty, color and grain in function to the type of aircraft model. A predetermined time is taken to dry and conserve the wood before the hand-crafting by our artists.
The Lockheed C-5 Galaxy is a large military transport aircraft designed and built by Lockheed, and now maintained and upgraded by its successor, Lockheed Martin. It provides the United States Air Force (USAF) with a heavy intercontinental-range strategic airlift capability, one that can carry outsized and oversized loads, including all air-certifiable cargo. The Galaxy has many similarities to the smaller Lockheed C-141 Starlifter and the later Boeing C-17 Globemaster III. The C-5 is among the largest military aircraft in the world.
The C-5 Galaxy's development was complicated, including significant cost overruns, and Lockheed suffered significant financial difficulties. Shortly after entering service, cracks in the wings of many aircraft were discovered and the C-5 fleet was restricted in capability until corrective work was completed. The C-5M Super Galaxy is an upgraded version with new engines and modernized avionics designed to extend its service life to 2040 and beyond.
The USAF has operated the C-5 since 1969. In that time, the airlifter supported US military operations in all major conflicts including Vietnam, Iraq, Yugoslavia, and Afghanistan, as well as allied support, such as Israel during the Yom Kippur War and operations in the Gulf War. The Galaxy has also distributed humanitarian aid, provided disaster relief, and supported the US space program.